Last Valentine 's Day ('06) ,
Japanese clothier Evisu
hooked up with
German sportswear giant Puma
to create a premium denim line. Nearly two years later, the affair is still going strong. The latest in the Evisu Loves Puma
"True Love Never Dies"
line comes in a range of cuts and washes for both men and women.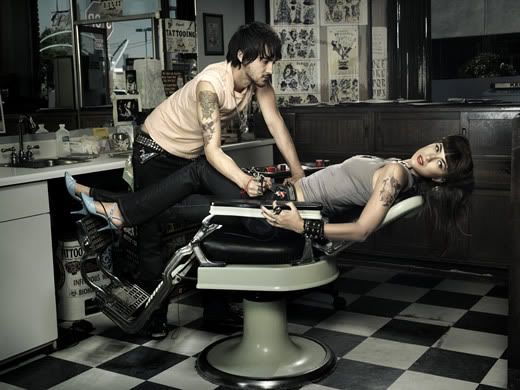 PUMA® and EVISU's® love affair is permanently etched in color with the introduction of a sleek new line of tattooed black denim. From the affectionately titled "True Love Never Dies" series, the new jeans proclaim the commitment and love with embroidered heart "tattoos". With authentic construction, this new black denim is the appropriate next step from a match made in heaven – cross our hearts.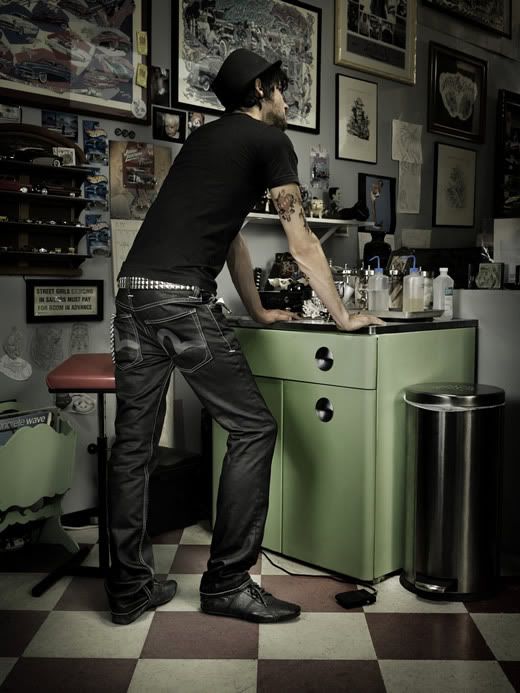 As in most love stories, it's the women who most often long for commitment and aren't afraid to show it. She wears her heart on her sleeve – or in this case, her pocket. An embroidered heart tattoo adorns the pocket of her jeans, as she expresses her love publicly. For the men, their love is a bit more private and sometimes hidden. An embroidered dagger tattoo lines his watch pocket, and he only exposes it when the time is right. If not, he keeps the flap of his watch pocket closed, and his love burns inside of him.
Elements also unique to this love story include the tone-on-tone EVISU brushstroke logo, and a sheen coating which gives the denim a more polished, finished look. Available women's styles include skinny leg, boot cut, straight fit and the cinch mini skirt. Men's jeans are available in regular fit, slim fit, loose fit and boot cut.

Conclus!oN : I w@nT !t!!! [Women's Straight F!t]